Connectors, cable assemblies and pigtails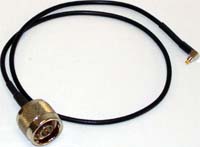 WISTEC cable assemblies - Quality for low price!
A broad variety of cable assemblies and pigtails are available manufactured according to our high quality standards.
Based on the typical 50 Ohm coax cable types used for WLAN such as
RG 58, Filotex, Low loss, RG 174

assemblies with a length of 0.3 m up to 22 m
and with connector systems like

N-type, SMA, RP-TNC, BNC and proprietary MC Card
belong to our standard offering.
(Other types, customizing and special combinations on request)

Please call for your particular requirements!