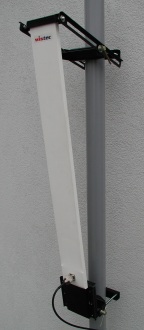 AN24S-13-I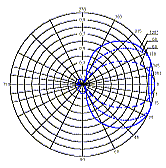 Horizontal Field Strength Pattern
(type I, II)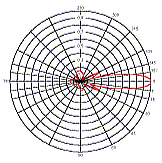 Vertical Field Strength Pattern
(type I)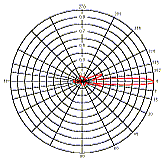 Vertical Field Strength Pattern
(type II)
| | |
| --- | --- |
| Code: | |
| AN24-S12-I | |
| AN24-S13-I | |
| AN24-S15-I | |
| AN24-S15-II | |
| AN24-S16-II | |
| AN24-S18-II | |
This antenna is specially designed for wireless Internet service providers and enterprise network applications for using in "cell" sites to provide up to 360 degrees coverage. If several frequency channels are available the segmentation gives the possibility to increase the capacity of the cell very effectively and make best use of the frequency resources. If the wireless system works only on a single frequency the use of these antennas allows the operating range to be expanded because of the higher gain compared with omni-directional antennas of similar size.

WISTEC offers two types of Sector Panel Antennas, which differ in the vertical beam width and in using accordingly.
Type I is ideal for using in territories with a complicated relief and a high density of subscribers (e.g. towns, campus networks).
Type II is the best for using on high masts covering relatively plain and wide territories.
Technical Specifications of Antenna Type I
Electrical

Operating Range, MHz
2400-2500
Gain, dB

AN24-S12-I
AN24-S13-I
AN24-S15-I
12
13
15
Horizontal Beam Width, degree

AN24-S12-I
AN24-S13-I
AN24-S15-I
120*
90
60
Vertical Beam Width, degree

AN24-S12-I
AN24-S13-I
AN24-S15-I
10
10
10
Impedance, Ohm
50
VSWR
1.5
Side lobe, dB
< -20
Mechanical

| | |
| --- | --- |
| Dimensions, mm | 750x100x20 |
| Polarization | Horizontal |
| Wind Survival, kmph | >200 |
| Connector | N-type |
Radom Material
Aesthetic UV-inhabited
white soft plastic

* - at a level of -4dB

Type II is the best for using on high masts covering relatively plain and wide territories.

Technical Specifications of Antenna Type II

Electrical

Operating Range, MHz
2400-2500
Gain, dB

AN24-S15-II
AN24-S16-II
AN24-S18-II
15
16
18
Horizontal Beam Width, degree

AN24-S15-II
AN24-S16-II
AN24-S18-II
120*
90
60
Vertical Beam Width, degree

AN24-S15-II
AN24-S16-II
AN24-S18-II
7
7
7
Impedance, Ohm
50
VSWR
1.5
Side lobe, dB
< -20
Mechanical

| | |
| --- | --- |
| Dimensions, mm | 960x100x20 |
| Polarization | Horizontal |
| Wind Survival, kmph | >200 |
| Connector | N-type |
Radom Material
Aesthetic UV-inhabited
white soft plastic

* - at a level of -4dB